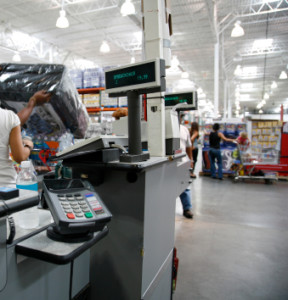 "Shop Intercom System for Supermarkets, Retail Outlets and all shops. Shop intercom systems are used for fast reliable communications between the Tills, Stores, Delivery Doors and office"
Shop Intercom Systems provide Communications At:
Counters
Delivery Doors
Office
Warehouse
---
Shop Intercom System Description
Where many shops are on separate floors or covering large areas there is a need for hands free communication, with a modern shop intercom system by pressing one button a hands free communication can take place, shops can be noisy and busy places where the need for information to be clear and precise is important.
---
Till Intercom Station
The desk or wall station with a full 15 button keyboard and display. It can call to, and receive calls from all stations in the system, and perform all-call and group-call, emergency call and silent alarm. The LCD display shows calling and feature status as well as absence information. A tri-color LED adds status information for the user. The station can be used on the wall using a wall bracket or if required can be removed from the bracket and used like a handset for discrete condensation.
---
Delivery Door Station
A single button stainless steel station is installed at the delivery door, a call from this station can be answered from any station on the system, and the door lock can be remotely controlled to give access if required, saving time during busy periods.
---
---
---
For more information
If you seek professional advice on which product to select, don't hesitate to contact RingUK's specialists today. Our team will evaluate your requirements, research, and clarify all available options to assist you or your client in selecting the ideal system that satisfies your needs.