NT24K® POE ETHERNET SWITCHES
Red Lion's N-Tron® series NT24k® platform offers a wide array of port configurations, media types and managed Power over Ethernet Plus (PoE+) models that include Fast Ethernet, Gigabit copper and fibre options. All NT24k PoE switches are plug-and-play installable, featuring IGMP auto-configuration, media/port auto-detection and simple ring configuration, making the NT24k platform one of the easiest to deploy managed Ethernet switches in the industry. Housed in rugged hardened enclosures, the NT24k PoE Ethernet switches feature extended shock and vibration specifications, wide operating temperature ratings and best-in-class ring technology. Learn more.

---
1000-POE+ DEVICES
Red Lion's N-Tron series 1000-POE unmanaged PoE industrial Power over Ethernet (PoE) devices offer Gigabit performance and IEEE 802.3af/at PoE+. The 1000-POE injectors provide up to 30 watts of output power and deliver the ultimate in reliability with a hardened metal DIN-rail mountable enclosure capable of being deployed in -40° to 80°C environments. Learn more.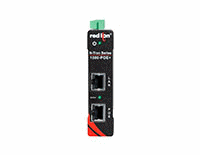 ---
SLX POE ETHERNET SWITCHES
Red Lion's Sixnet® series SLX unmanaged PoE industrial Ethernet switches offer Gigabit speed, -40° to 85°C operating temperatures and industry certifications for even the harshest applications. Our switches are available with SFP ports for flexible deployments using fibre or Ethernet. Learn more.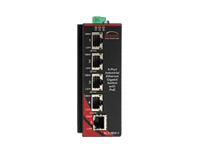 ---
100-POE PRODUCTS
Red Lion's N-Tron series 100-POE products feature industry-standard IEEE 802.3af PoE, wide operating temperature ranges and excellent EMI protection. Our 100-POE unmanaged products offer a wide range of options, including PoE switches, injectors and splitters that are cost-effective and compact in a metal DIN-rail mountable enclosure that can expand your industrial Ethernet network exponentially. Learn more.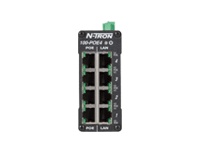 ---
Red Lion's Sixnet series EB products include unmanaged PoE switches, injectors and splitters. Our industrial EB Ethernet products offer up to five connectivity ports, including Ethernet and fibre options. Providing plug-and-play simplicity, these devices automatically sense and support all IEEE 802.3af-compliant devices. Learn more.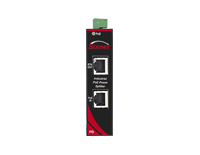 ---
For more information
If you seek professional advice on which product to select, don't hesitate to contact RingUK's specialists today. Our team will evaluate your requirements, research, and clarify all available options to assist you or your client in selecting the ideal system that satisfies your needs.