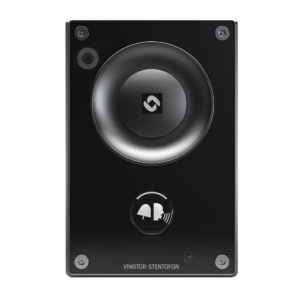 "Turbine Intercom stations Cisco compatible, As the core of the Cisco Collaboration portfolio infrastructure, Cisco Unified Communications Manager is a unified communications call control platform that can deliver the right experience to the right endpoint. One of these endpoints can now be a STENTOFON Turbine Intercom station"

– When you need a robust Intercom station that provides state of the art sound quality with a unique design, a Turbine station is the natural choice. We are proud to announce that the Turbine station range is now compatible with Cisco Unified Communications Manager 9.1. We believe it will be a great asset to anyone using or considering choosing Cisco, to be able to complement their system with Turbine stations, said Adil Ashraf, product manager for Unified Communications in STENTOFON.
Cisco Communications Manager
The Cisco Communications Manager is an excellent solution for unifying Applications and Endpoints.
Features and Capabilities:
• Reliability
• Lower cost of ownership
• Interoperability and standards support
• Scalability for up to 40,000 users, extensible to 80,000 users
Visit Cisco for more information and specs for Cisco Unified Communications Manager.
The Turbine Intercom station ranger
The Turbine series being compatible provides all the features of the Turbine series to be utilized and installed as part of the Cisco Collaboration portfolio.
All IP stations in the STENTOFON Turbine series utilize the latest technology to create unparalleled audio quality. Some of the many features include: HD voice quality, Open Duplex, Active Noise Cancellation, MEMS microphone, a 10W Class D amplifier and our unique speaker grille design. These features, in conjunction with STENTOFON's 65+ years of experience with acoustic technology are only a few of the many factors that contribute to our superior audio quality.
---
Turbine Intercom Station Range
---
Intercom Station Range
---
For more information
If you seek professional advice on which product to select, don't hesitate to contact RingUK's specialists today. Our team will evaluate your requirements, research, and clarify all available options to assist you or your client in selecting the ideal system that satisfies your needs.