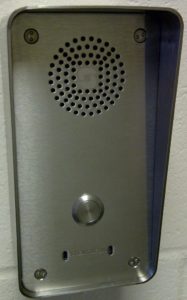 For more information
If you seek professional advice on which product to select, don't hesitate to contact RingUK's specialists today. Our team will evaluate your requirements, research, and clarify all available options to assist you or your client in selecting the ideal system that satisfies your needs.
Hands free Isolation Pod Intercom Systems for use with Coronavirus Secure Pod's from Ring Communications. For use in communications world wide, weather you require a simple two station intercom system or a multi station intercom system, we supply a product for your requirements.
One to One
One to Multiple Locations
With the urgent requirement for isolation pods remote to the A&E department, the need for good communications is required between patients and staff . when the patient arrives in the pod, staff will need to talk to the patient without putting them selves at risk, this can be achieved via a simple one button intercom system.
---
Isolation Pod Intercom Sample Drawing
---
Medical Departments