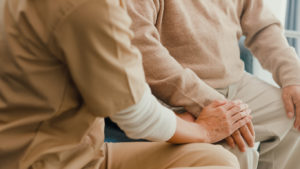 For more information
If you seek professional advice on which product to select, don't hesitate to contact RingUK's specialists today. Our team will evaluate your requirements, research, and clarify all available options to assist you or your client in selecting the ideal system that satisfies your needs.
Resident Visitor Communications. providing high quality sound across partitions and safety screens, featuring dual speaker pods which can be free-standing or surface-mounted.
Secure, confidential 2-way through-screen voice communication between the resident and relative
Includes 2 x Speaker Pods, 2 x Boundary Microphones, 1 x Central Controler
Easy to Install by local electrition
A self-testing system with high-quality sound
Easy to maintain and clean with touch-free operation
Contributing to a safer environment for residents and visitors
Systems are always on and benefit from the contactless operation
Optional hearing loops can be included if required
Resident Visitor Communications enables clear voice communication between Residents and Relative through partitions and safety screens. Resident Visitor Communications therefore can be conducted safely and efficiently – without the worry of passing any infection – in these worried times a safe visit from a relative can be a big reassurance to the resident.
---
Resident Visitor Communications Datasheets
Resident Visitor Communications Intercom Datasheet
Resident Visitor Communications Installation and User Instructions 
---
Medical Departments