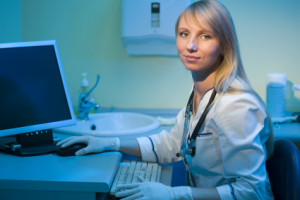 "Doctors, Dentist, Vets all require a Surgery Intercom System for easy communications with their reception, nurses or to request the next patient"
A Surgery Intercom System will provide:
Calls to Waiting Room
Call to Reception
Treatment Room to Treatment Room
Emergency (Crash, Panic) Call
External Door Bell
---
However large or small your surgery, the Pulse surgery intercom system can provide comprehensive communications suited to the surgery environment. Offering the facility for multi-room communications, the system allows for each unit in the building to be connected up, ensuring that staff and patients can be reached at all times. Stations can be installed in the reception area, treatment rooms, and pharmacy, and linked to the public address speaker in the waiting room, enabling the different parties involved to request patients or make announcements as and when necessary.
The easy set-up surgery intercom system means there's no need for complex central-exchange-based systems. Instead, clients can simply start off with two stations, and as their needs expand, extra stations can be installed by merely extending the cabling to the most convenient nearby point. In the waiting room, speakers can be mounted on a suspended ceiling, or on the wall, and can be adapted to larger rooms by adding further speakers. An audio feed can be applied to the speakers from a music system or CD player to allow patients to listen to music as they wait for their appointments. When the receptionists or doctors need to communicate with the patients, their announcements override the music.
The versatility of the Edge System enables doctors' practices to expand their intercom system with ease as the surgery grows, minimizing the additional costs and stresses that expansion can bring.
A further bonus is that when the reception area is closed, people can still be given access to the building via an out-of-hours reception station, which can be installed at the client's request. When the doorbell is rung, a notification is sent to the stations set up to receive it, and the door can be opened remotely, adding greater flexibility to surgery access.
---