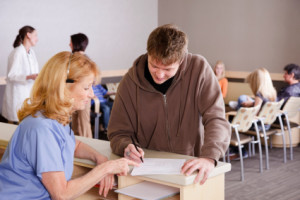 For more information
If you seek professional advice on which product to select, don't hesitate to contact RingUK's specialists today. Our team will evaluate your requirements, research, and clarify all available options to assist you or your client in selecting the ideal system that satisfies your needs.
"Medical, Dental & Veterinary practice waiting room intercom systems, easy communications from reception, nurses, doctor, dentists or Vet. used to ask for the next patient"
Features:
Calls to Waiting Room
Call to Reception
Treatment Room to Treatment Room
Emergency (Crash, Panic) Call
External Door Bell
---
Waiting Room Intercom Description
The intercom system offers a comprehensive solution for managing patient traffic and communication within a healthcare facility. With strategically placed intercom stations in the reception, treatment rooms, and pharmacy, healthcare professionals can easily communicate with each other and coordinate patient care seamlessly.
The Intercom system also includes a public address speaker in the waiting room, which allows staff members to request the next patient and make important announcements to everyone in the waiting area. This feature enhances patient experience by keeping them informed and engaged while they wait.
In addition, the intercom system is versatile enough to accommodate different operational requirements, such as after-hours patient access. With an out-of-hours door station installed, the system can continue to function even when the reception is closed, ensuring patients can still access the care they need in a timely and efficient manner.
Overall, the intercom system is a valuable investment for healthcare facilities, helping to streamline patient flow, improve communication, and enhance the patient experience.
RingUK have many years experience in suppling intercom systems, contact us today for advice
---
Medical Departments