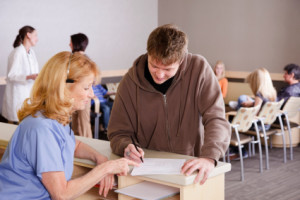 For more information
If you seek professional advice on which product to select, don't hesitate to contact RingUK's specialists today. Our team will evaluate your requirements, research, and clarify all available options to assist you or your client in selecting the ideal system that satisfies your needs.
"Outpatient Department Intercom systems, easy communications from consulting rooms, reception, nurses. used to ask for the next patient"
Features
---
Sample Systems
12 x Desk / Wall Stations with Handsets
---
Outpatient Department Intercom Description
The Outpatient Department Intercom from RingUK is a communication device designed to provide reliable and efficient communication between healthcare professionals and patients in outpatient settings. This intercom system is easy to use and is equipped with advanced features that enable medical professionals to provide high-quality care to their patients.
The IC-Edge Intercom System is a durable and high-quality communication device that is designed to withstand the rigors of a busy outpatient department. It is constructed with high-quality materials that ensure its durability, and its advanced features make it an ideal communication tool for busy medical professionals. The device is equipped with a sensitive microphone and high-quality speakers, which allow for clear and crisp communication between medical staff and patients.
One of the key features of the IC-Edge Intercom System is its hands-free operation. Medical staff can communicate with patients without having to hold the Station, which allows them to perform other tasks while communicating with patients. This feature is particularly useful in outpatient departments where medical professionals are often multitasking and need to attend to multiple patients simultaneously.
The Intercom also has an easy-to-use station that makes it simple for medical professionals to operate. The device is equipped with a large, easy-to-read display that provides clear instructions for use. Additionally, the device has large, clearly labelled buttons that make it easy to select the desired communication mode.
Another important feature of the intercom is its privacy settings. The intercom has a privacy button that can be pressed to prevent patients from overhearing conversations between medical staff. This feature is important in maintaining patient confidentiality and ensuring that sensitive information is not shared with unauthorized individuals.
In conclusion, the IC-Edge Intercom system from RingUK is an excellent communication tool for medical professionals working in outpatient settings. Its advanced features and easy-to-use interface make it an ideal device for providing high-quality care to patients. Its durability and hands-free operation make it an essential tool for busy medical professionals who need to attend to multiple patients simultaneously.
---
Medical Departments