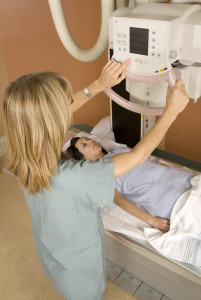 For more information
If you seek professional advice on which product to select, don't hesitate to contact RingUK's specialists today. Our team will evaluate your requirements, research, and clarify all available options to assist you or your client in selecting the ideal system that satisfies your needs.
"Good Radiology Intercom System between the different areas is essential for efficient running of a department and to enable staff to make best use of the often limited resources"
A Radiology Intercom System Provides the:
---
To ensure effective communications between several departments in a medical environment an exceptional intercom system is an absolute necessity. Intercoms guarantee that medical and auxiliary staff are able to make the most of the often limited resources that can be found in modern hospital facilities.
A Radiology Intercom System can incorporate calls to reception, waiting and treatment rooms, staff rest rooms or more specialist areas such as X-Ray, MRI and EBCT suites. These essential communicative features are simply not available on standard telephone systems.
It does go without saying, but clear and effective communication is highly important in any medical environment. In some extreme cases, it could even save lives. As an example, key members of staff of various different departments will often need to converse and be brought together quickly – which can easily be facilitated by an intercom system.
In a non-emergency setting, Radiology Intercom System represents a quick and easy way for communication between members of staff, and their patients too. These can be set up with a direct line between different departments and rooms – which maximises efficiency and minimises waiting times.
A typical station for a door entry system would be a single button, stainless steel flush or surface mount, whereas for internal areas a desk or wall installation is far more preferable. In areas where medical bacterial control is imperative than a clean room and theatre station is the only safe option.
Many of these intercom systems are operated using hands-free technology too, which means that the spread of germs and bacteria which could occur with a traditional telephone receiver can be prevented.
They are fitted with a protective membrane too which covers all components, including the keypad, microphone and loudspeaker. In addition, the stations are normally recessed into a surface and sealed, which prevents contamination before it can begin.
---
Medical Departments